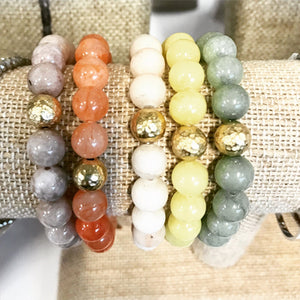 Sets
2 for $55 Duke Bracelets
Shipping
Timing of Orders: 
We do our best to fulfill all orders the same business day if the items are in stock or we have the appropriate materials. Most items are hand-made one at a time so we will absolutely go above and beyond to ship your order out as soon as possible. We know you are excited and we are anxious for you to have it as soon as possible. Personalized orders take more time. Engraving is usually done within 3-5 business days, if not sooner. Some Fine Jewelry items will require up to 3 weeks for completion. If you need a rush shipment, please contact us to make sure we can accommodate your deadline.  
Shipping: 
We are based in Dallas, TX. All orders ship FedEx, USPS or UPS with the method you selected based on the estimated shipping cost calculated by your location.  
If you need a rush shipment, please contact us to make sure we can accommodate your deadline.  
Policies
We do not issue refunds under any condition. Exchanges on certain items only.  All sales are final. All personalized merchandise, i.e. Stamped, Engraved, or Fine Jewelry (Milestones Collection) Sales, are non-exchangeable or non-refundable.  
On all remaining items, we are happy to make an exchange of equal value for a purchase if you are not 100% satisfied.  The item(s) must be returned unworn and in perfect condition bearing the tag within 10 days of the original shipping date. Shipping and handling fees are non-refundable.
Jewelry Care
Each piece of our jewelry is hand-crafted and therefore delicate. Please use appropriate care to enjoy our jewelry for a long time. The majority of our items consist of gold fill, vermeil, solid 14kt gold and sterling silver. Silver and 14kt gold can be cleaned with a polishing cloth or jewelry cleaner. 
On sterling silver, vermeil & gold filled items the metal may darken or tarnish with normal wear. We recommend gently wiping the metal surface with a polishing cloth. Because most of the stones we use are natural gemstones and pearls, they may vary in shape, size and color. Inclusions can be seen in natural stones and is a part of their beauty. Pearls and most gemstones do not stand the force of cleaning agents, polishing cloth or ultrasonic cleaners.
Please take care of your jewelry, we realize our style is dainty and delicate and you must treat it with care. Skin oils, chemicals, sweat and perfumes will cause your jewelry to discolor over time. We ask that you remove your jewelry when you exercise, or shower as to prevent tarnishing and discoloration on gold fill, vermeil and sterling.
Storage:
Most shipments will provide a pouch or polybag for your jewelry.  It arrives this way for two reasons and that is a) If you keep the clasp of a delicate chain hanging outside of the bag's Ziploc, it will prevent tangling, especially while you travel   b) keeping it stored in an airtight space will prevent the oxidation process and help further protect the beauty and original color of the jewelry. 14kt Gold is an exception, it will not tarnish.